How Much Is Teeth Whitening At The Dentist?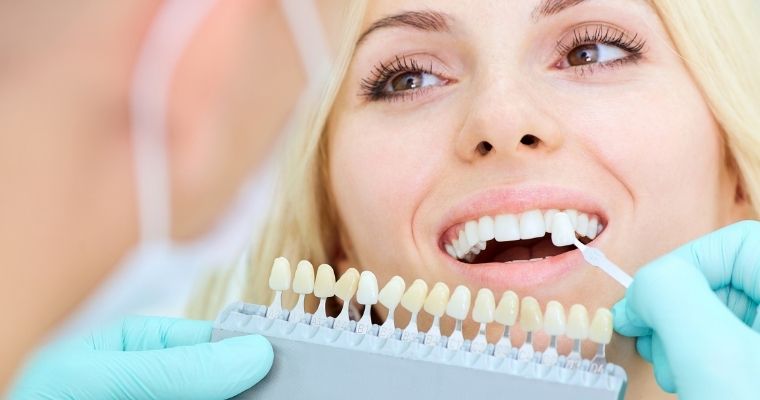 Actors, models and public figures often have pearly white smiles that leave us wondering if we could have that too. And, sometimes all you need is a simple teeth whitening procedure.
But:
The cost to get teeth whitened is a common question we often hear.
So, how much does teeth whitening cost?
We're going to look at the answer to that question and answer some others you may have as well.
How much does teeth whitening cost?
As with many cosmetic treatments, a couple of options are available to you that come with varying price points.
Let's look at the pricing of two whitening options our dental practices use:
Zoom! teeth whitening
Opalescence Whitening
Zoom! teeth whitening
Zoom! Teeth whitening prices vary depending on your location.
At our Garner location, we charge $199-$299 for Zoom! Teeth whitening,
This price reflects how incredibly effective it is to brighten your smile.
How does Zoom! Work?
Zoom! teeth whitening uses a whitening solution placed on your teeth, which lasers activate to break down stains and discoloration at a molecular level.
This treatment is so effective that it can result in your teeth becoming eight shades (or more!) whiter in a single session.
Opalescence Whitening
Opalescence teeth whitening cost in North Carolina varies by location.
At our Cary and Fuquay-Varina dental locations, we breakdown the pricing into the following categories:
In-office Opalescence treatment – $425
Opalescence take-home tray – $250
OpalGo (box of 10 trays) – $85
As you can see, there are two options available for this treatment: in-office or take home.
Both treatments utilize the same Opalescence whitening gel, which oxidizes the discolored molecules in the enamel to remove stains and whiten your smile quickly and effectively.
How long does teeth whitening last?
On average, you can expect whitening to last between six months and two years.
How long your results last depends on how well you take care of your teeth.
To preserve the effects of treatment, avoid:
Does dental insurance cover teeth whitening?
As with most cosmetic dentistry treatments, dental insurance doesn't cover teeth whitening.
Some dental offices, like our Cary, Garner, and Fuquay-Varina locations in North Carolina, offer annual dental plans to help save you money wherever possible.
Interested in teeth whitening at our North Carolina dental offices?
With three convenient locations in Cary, Garner, and Fuquay-Varina, you can be sure to find comfortable care in an area close to you.
Call one of our three convenient dental office locations and let us help you decide which teeth whitening option is right for you.
See below:
We happily welcome patients from all over North Carolina, including Cary, Garner, Fuquay-Varina, Raleigh, Angier, Lillington, Holly Springs, Willow Springs, Apex, and Clayton, NC.