Laser Dentistry: A Cutting-Edge Solution for Dental Care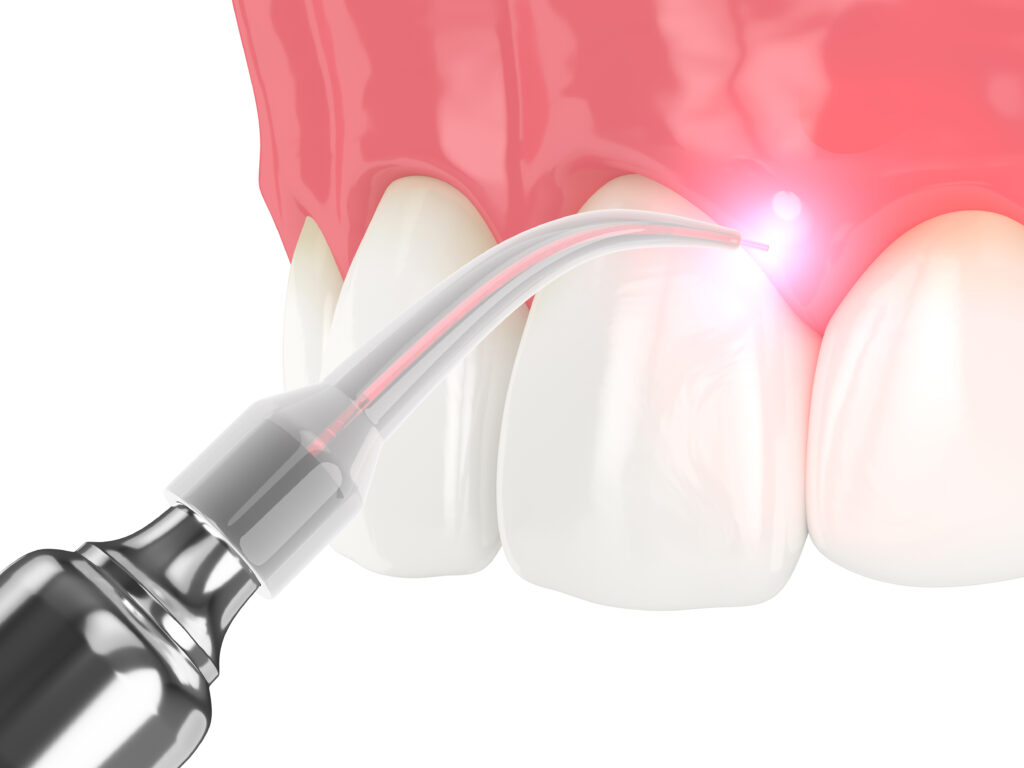 Are you looking for a dental care solution that goes beyond traditional methods? 
Interested in exploring advanced techniques that guarantee superior results? 
Welcome to the world of laser dentistry at Charles Ashley Mann DDS and Associates in North Carolina! 
Say goodbye to conventional treatments and hello to innovative approaches. 
In this article, we'll discuss laser dentistry. We will examine its benefits, applications, and how it can revolutionize your dental experience.
What is laser dentistry?
Laser dentistry is a groundbreaking technique that employs focused light beams, or lasers. Lasers help to treat various dental conditions. 
These precision tools offer a minimally invasive approach to dental treatment and often reduce the need for anesthesia and sutures. 
We harness the power of lasers to provide our patients with comfortable, efficient, and effective dental care.
Reduced pain and discomfort
Lasers are less invasive, leading to minimal pain during and after procedures.
Faster healing
The targeted precision of lasers promotes quicker healing times, minimizing recovery periods.
Minimized bleeding
Lasers cauterize blood vessels as they work, reducing bleeding during treatments.
Lower risk of infection
The high-energy beams sterilize the treatment area, lowering the risk of infections.
Preserved healthy tissues
Laser dentistry selectively targets damaged areas while preserving healthy tissues.
Laser dentistry applications
Laser dentistry can be employed for various treatments, including:
Dental fillings
Lasers facilitate the effective removal of decay and bonding of fillings.
Gum contouring
Reshape and redefine your gum line effortlessly with laser precision.
Root canal therapy
Lasers disinfect root canals, enhancing treatment success rates.
Gum disease treatment
Combat gum disease with minimally invasive laser procedures.
Teeth whitening
Achieve a brighter smile in less time with laser-assisted teeth whitening.
Is laser dentistry safe?
Safety is a top priority at Charles Ashley Mann DDS and Associates.
Laser dentistry is a safe and approved method for dental treatments. 
Our skilled professionals are extensively trained to ensure the utmost care and comfort during your procedures.
Is laser dentistry for me?
The versatility of laser dentistry allows it to cater to a wide range of dental needs. 
Consult Charles Ashley Mann DDS and Associates to determine if laser dentistry is the ideal solution for you.
What to expect during laser dental procedures
Prepare for a comfortable and swift dental experience at Charles Ashley Mann DDS and Associates. 
During your laser procedure:
You'll feel minimal discomfort.

The process will be quick and efficient.

Healing time will be expedited, returning you to your routine in no time.
Laser dentistry vs. traditional dentistry
Discover the contrast between laser dentistry and traditional methods. Laser dentistry offers:
Precise treatment targeting.

Faster and smoother procedures.

Reduced need for anesthesia.

Minimized post-procedure discomfort.
The future is here
The revolution in dental care through laser dentistry is set to transform dental services and treatments. 
This form of advanced treatment can be found at Charles Ashley Mann DDS and Associates in North Carolina. 
Experience unmatched precision, comfort, and effectiveness. 
Trust in the expertise of our skilled professionals, who are committed to enhancing your dental journey. 
Say yes to laser dentistry and unlock a new world of dental possibilities!
Book your laser dentistry appointment today!
Book your deep dental cleaning appointment today and take the first step toward healthy teeth and gums.
Charles Ashley Mann DDS and Associates help people smile in Cary, Garner, and Fuquay-Varina, NC.